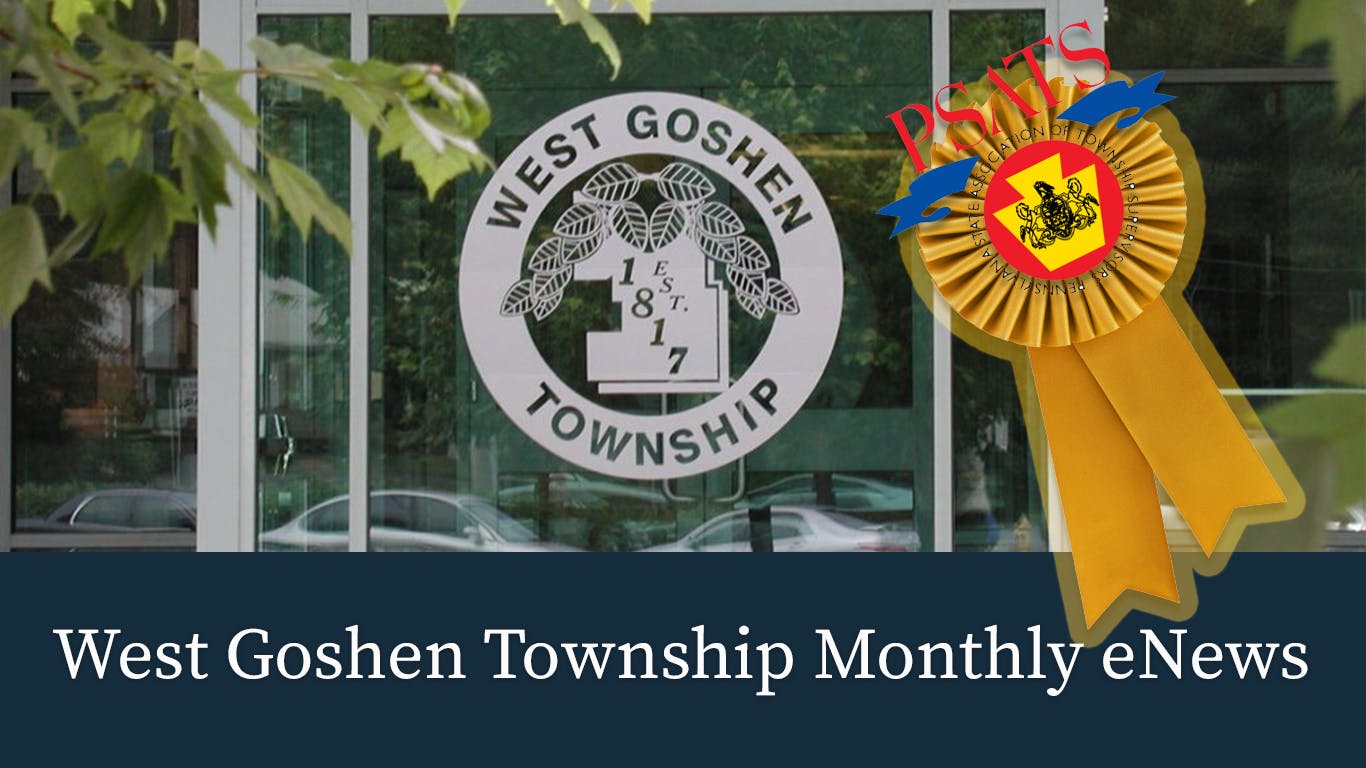 West Goshen Township, PA – 10/01/2020 – The West Goshen Township Monthly eNews has been named a Second Place Winner in the Electronic Newsletter Category in the Pennsylvania State Association of Township Supervisors' (PSATS) 52nd Annual Citizen Communication Contest. The contest recognizes townships that have successfully communicated programs and activities to citizens.

The West Goshen monthly eNews is a digital newsletter with a reach of over 22,000 people per month. In 2018, West Goshen Township recognized a need to enhance communications with residents and visitors and to share information about township improvements, news, and events. For many years, the township distributed a quarterly newsletter while maintaining a website, Facebook page, and Twitter feed. While local municipal information was shared in earnest, it was often difficult for residents to find, and as a result, failed to reach much of its intended audience. With its current rate of growth, the board of supervisors knew they needed to inform a growing population more effectively.

Once the need for a change was recognized, the search for a better system began. Township Assistant Manager Derek Davis contacted DandeLions Digital, who carefully assessed West Goshen's requirements and developed a digital communications strategy that included an outline and calendar for both paper and digital newsletters, a designated point of contact, and a social media communications schedule. Since the creation of their eNewsletter both the township staff and the board are more at ease and communication deadlines are prioritized and consistently met. Currently, the digital newsletter is emailed to over 2,600 subscribers and is viewed on social media by tens of thousands more using well placed social media ads. Website traffic has increased as more people are invited to find the information they need via West Goshen's news posts on their website, eNews and social media posts.
If you would like to subscribe to the West Goshen Township eNewsletter, please visit the West Goshen Township website at:
https://www.westgoshen.org/documents-forms/newsletter/

The PSATS Annual Citizen Communication Contest attracted entries from across the commonwealth in eight categories: printed and electronic newsletters, most improved newsletters, other publications, audiovisual communication, cable TV programs, social media, and websites. In all, 45 townships submitted 106 entries for this year's competition, and 30 townships won awards. All contest entries were judged on the usefulness of information presented and how well the information was communicated to township residents. Publications were also judged on their overall attractiveness and readability. Judges included PSATS staff and township officials who volunteered through the Association's Power of One program.

ABOUT PSATS (PENNSYLVANIA STATE ASSOCIATION OF TOWNSHIP SUPERVISORS)
The PSATS organization has been serving townships of the second class since 1921, when Governor William Sproul signed Act 189 to create PSATS. Headquartered in Enola, Cumberland County, the association has more than 30 full-time employees and operates under the direction of a 12-member executive board, elected each spring by the membership. The association also has nine standing committees that oversee specific aspects of its operations.

The PSATS organization represents Pennsylvania's 1,454 townships of the second class and is committed to preserving and strengthening township government and securing greater visibility and involvement for townships in the state and federal political arenas. The organization is committed to preserving and strengthening township government by lobbying state and federal lawmakers and educating and informing its members through workshops, an annual conference and exhibit show, and award-winning publications. To learn more about PSATS, click here:
http://psats.org/index.php

ABOUT WEST GOSHEN TOWNSHIP
West Goshen Township is a township located in Chester County, Pennsylvania. West Goshen was primarily a farming community in its early history. Before long, many different businesses began to appear, including several women-owned enterprises. Trades such as cabinet-making, tailoring, weaving, clock-making, and wool-making characterized the area. The completion of railroads in the 1830's and 1850's facilitated the delivery of goods and services to the township, and marked the migration of many Philadelphians seeking country residences. By 1930, West Goshen's population had risen to 1,958 and the farming community had grown into a suburban neighborhood. In 1950, the population was 3,500. The township experienced its most explosive growth during the 1960's and 1970's, and today boasts over 20,000 residents and a balanced mix of residential, business, office, retail, and industrial uses.

Since 2007, West Goshen Township has been named as one of Money Magazine's "Best Places to Live" six consecutive times, most recently in 2017. Money Magazine ranks the top 100 "Best Places to Live" every two years, and West Goshen Township has been on this list in 2007, 2009, 2011, 2013, 2015 and 2017.
To learn more about West Goshen Township, visit:
https://www.westgoshen.org/